"I thought love was black and white.
But with you it can be red and orange and yellow and green,
and sometimes…
just sometimes…"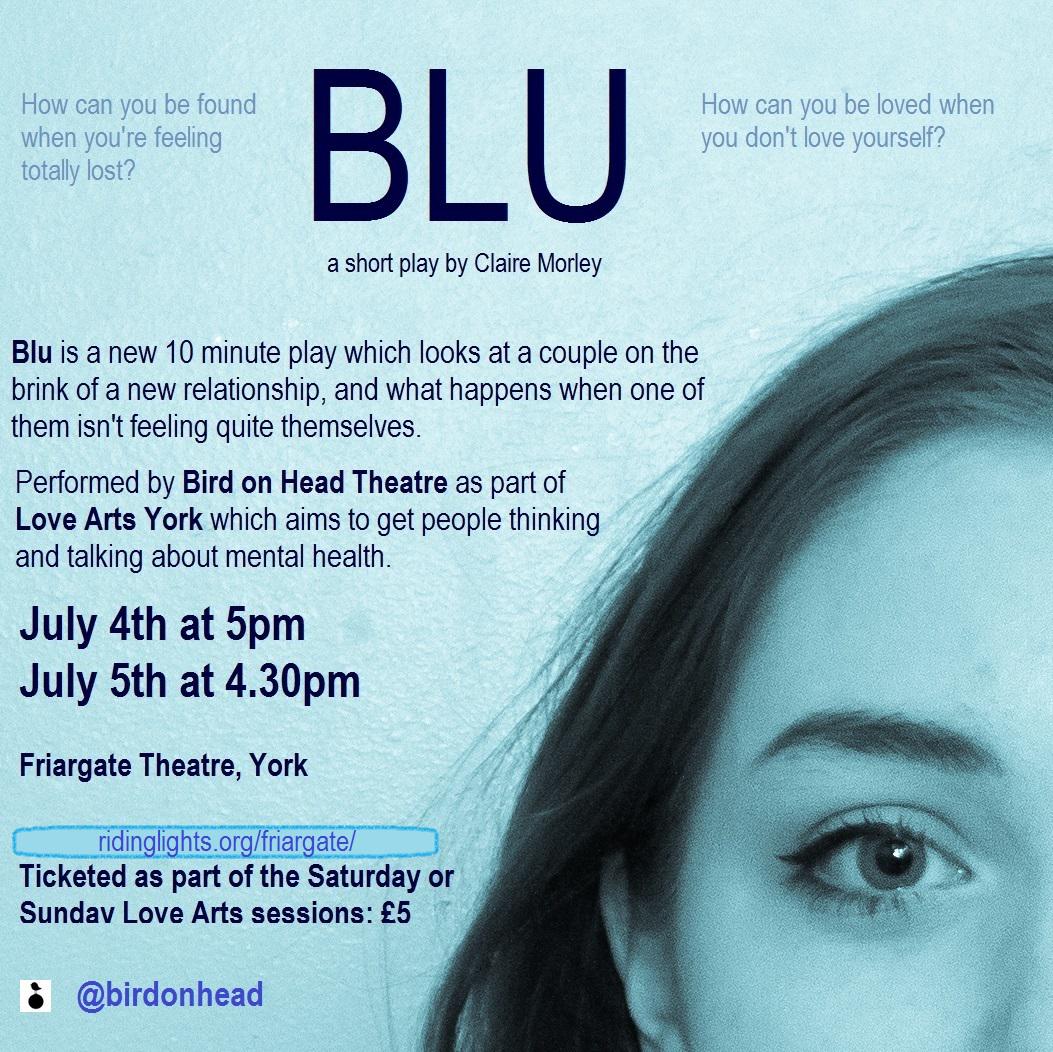 I originally wrote Blu for a Script Yorkshire Script Factor heat earlier this year. The theme was, unsurprisingly, 'Blue' and I immediately thought of writing something to do with mental health, "blue" sometimes being used as a euphemism for mental health problems such as Depression. I don't mention a specific issue in the play, but my own past experiences with Anxiety did have an influence on the writing.
Blu begins with an awkward meet cute at a party between a man (played by David Phillipps) and a woman (played by Emma Dubruel). They are very different people but they are intrigued by each other and, over two different time frames, we see that actually maybe they are just what each other needs at this particular time in their lives.
Coming to watch Blu will take the maximum of 10 minutes of your precious time and for just £5 you can also get in to watch other Love Arts performances at Friargate Theatre. On Saturday 4th July, we are on at 5pm and at 6pm you can watch Are You Taking the Mick by Conquer and, at 7pm Do you Mind? by Beardog. On Sunday 5th July, we are on at 4.30pm and at 6pm you can watch Headaches by Enso. For an extra £5 each you can also see Anonymous Bosh's The Knot of the Heart and Hedgepig's The Maids the same weekend!
Love Arts York festival is a festival with the simple aim of using the arts to get people to think about and talk about mental health and wellbeing. www.loveartsyork.co.uk
Blu production updates are posted on twitter, follow @birdonhead for more information.
I will also be entering a play in the Script Factor Final, also at Friargate, later in July. Tickets for both events can be booked at www.ridinglights.org.uk/friargate